Creative evening
The course takes place every Wednesday from 6.30 pm to 9.30 pm in my studio in Bierbergen.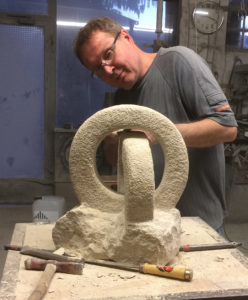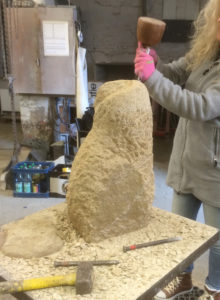 Sculptor Workshop
This offer is aimed at artists and artisans interested.
Participation requires no prior knowledge, preparation or
physical forces; working on the stone requires concentration, perseverance
and imagination. Taking into account individual ideas of form
Working techniques, material properties and various artistic as well
getting to know handicraft approaches; All work steps become detailed
demonstrated and explained.
A basic set of tools is provided. We work because of the
Hardness and proximity to the quarry, preferably in Thüster limestone
The two 3d animated sculptures are student work:
The regulations of the sculpture course
> The course fees are collected monthly and must either be transferred to my account by standing order until the 3rd of the month or paid in cash during the first lesson of the month. The amount of the monthly contribution for 4 units (à 45 min.) Weekly incl. Workshop use, and tool wear is 60 € or 75 € per month (4 or 5 appointments per month). That is 15 € per evening.
> If a participant can not take an appointment, he will be refunded the amount of 15 € per appointment with the next monthly payment, as far as he has unsubscribed by phone or email the previous day until 23:59.
> If no participant has appeared until 15 minutes after the beginning of the course, the course will be canceled. No money will be refunded.
> If course dates fall due to other agreements (eg holiday arrangements, symposia, etc.) or due to the fault of the trainer, the mathematical portion of the monthly amount will be reimbursed.
> Thüster limestones are provided at cost price.
> Hand tools for processing in Thüster limestone are provided free of charge but must be replaced if the carbide tip breaks.
registration
Please call me, send me an informal email or use the post office. ( PDF Registration )